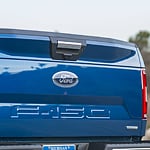 The Ford F-150 continues to be "built Ford tough." The popular pickup truck continues to mesmerize buyers, as the vehicle continues to present excellent features. New models boast of fantastic performance features, and those capabilities are significant selling points. Many pickup truck buyers use their vehicles for work and adventure travel. Performance means a lot to them.
A six-engine lineup offers variety and choice. Choose your engine and horsepower based on needs. Gas or diesel options are available. Ford knows its pickup truck customers have different goals and purposes in mind. So, the company provides tremendous engine variety. The carrying and towing capacity ranges depending on the cargo, passengers, and other factors, but the powerful engine can handle a lot. The F-150 garners a strong reputation for a "best-in-class" payload. Whether hauling for work or hobby pursuits, expect the F-150 to impress.
Discover what a Ford F-150 can do on a test drive. Contact the office at Billy Cain Ford Inc. to set one up.