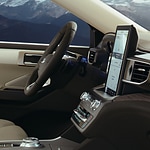 Reliable performance is critical for drivers in Commerce, GA, but looks are still important too. Luckily, you can get the best of both worlds with a decadent Ford Explorer. To satisfy all corners of the market, this fantastic three-row SUV demonstrates exemplary functionality alongside dazzling appearances.
Adaptive LED lighting serves to make this ride's presence known while illuminating the night with amazing proficiency. Evening excursions are a breeze thanks to this stunning feature, and the exotic headlight contours are downright dashing. These ravishing additions grant a brilliantly distinctive edge in any setting. It's beyond thrilling to experience such transcendental brightness within an instant.
An attractively sleek 10.1-inch LCD capacitive portrait touchscreen is also offered to facilitate extreme digital connectivity. Billy Cain Ford Inc. can thoroughly highlight the comprehensive level of integration that is proffered by this sleek technology, so be sure to make arrangements for a complete Ford Explorer test-drive in the coming days.