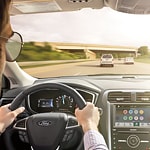 The Ford Fusion is a popular midsize sedan that offers performance through a few different options. You can choose the Fusion in a gas, hybrid or plug-in hybrid model, all of which offer not just great performance but also great gas mileage. Pay us a visit at Billy Cain Ford Inc. and check out the various Fusion models we have on hand.
The Fusion not only offers the choice of gas or hybrid engine but also offers you the choice between the 1.5L EcoBoost engine or the 2.0L EcoBoost engine. When combined with special features like Intelligent all-wheel drive and a peppy six-speed automatic transmission, it's no wonder you get such amazing performance from the Fusion.
Stop at our store in Commerce, GA to check out what we have to offer. While you're there, take a Ford Fusion out for a test drive. You'll love the feel of the Fusion regardless of the engine type you choose.