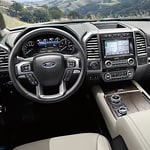 The Ford Expedition remains popular with families who desire a full-size SUV with plenty of interior space. But, beyond being useful for daily carpools and family outings, the Expedition is capable of weekend adventures.
The large SUV has a twin-turbocharged 3.5-liter engine having six cylinders that get 375 hp. The vehicles also come with an automatic transmission with 10 speeds. Clients choosing one of our Commerce, GA Billy Cain Ford Inc. models have the chance to purchase an SUV with rear-wheel or 4WD.
Vehicles having 4WD gain the terrain management system. Drivers need merely select the terrain type for optimal traction supplied to each wheel.
When equipped with a hitch and the heavy-duty trailer two package, the vehicle easily pulls up to 9,300 pounds. The package additionally includes roll stability control and blind-spot monitoring. By adding integrated trailer brake control, the SUV and trailer move and stop as one.