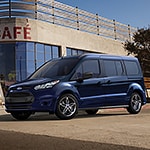 An Introduction to the Ford Transit Connect

The Ford Transit Connect is a van that caters to commercial customers and customers who need vans that are spacious but not large. The Transit Connect wears a compact exterior design but has an interior that is one of the most spacious in the van's class.

A Range of Configurations

The Ford Transit Connect lineup is far more diverse than its five main trim configurations. The Transit Connect is available with short wheelbase and long wheelbase models. The new Transit Connect can also be equipped as a passenger van, with three rows of seats, or as a cargo van.

Endless Possibilities

If you have needs that are unique to your specific situation, then the Ford Transit Connect can be equipped with the features that you want. The Upfit Configurator allows you to find and equip the tools that you need in your Transit Connect.