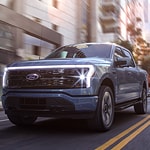 Are you looking for a pickup truck that can handle challenging jobs and rugged terrain with ease? Look no further than the Ford F-150. It has the design and capabilities to handle whatever you or nature throws at it. At Billy Cain Ford Inc. are proud to offer the latest Ford F-150 models for both sale and lease.
The Ford F-150's toughness and durability stem from its fully boxed high-strength steel frame. The steel used to construct the F-150 is extremely tough but lightweight, thanks to a unique roll-forming process. The body of the F-150 is made with a light but hardy military-grade aluminum alloy that is resistant to dents and helps the Ford-150 achieve the best towing ratings in its class.
Ford's F-150 handles the freezing temperatures of up to -40 degrees Fahrenheit and scorching heat temperatures of 120 degrees Fahrenheit with no performance loss. Its hardy construction makes it tough enough to climb hills, scale mountains, and tackle bumpy roads with ease while towing heavy loads.